The Complete Guide to Epsom Salt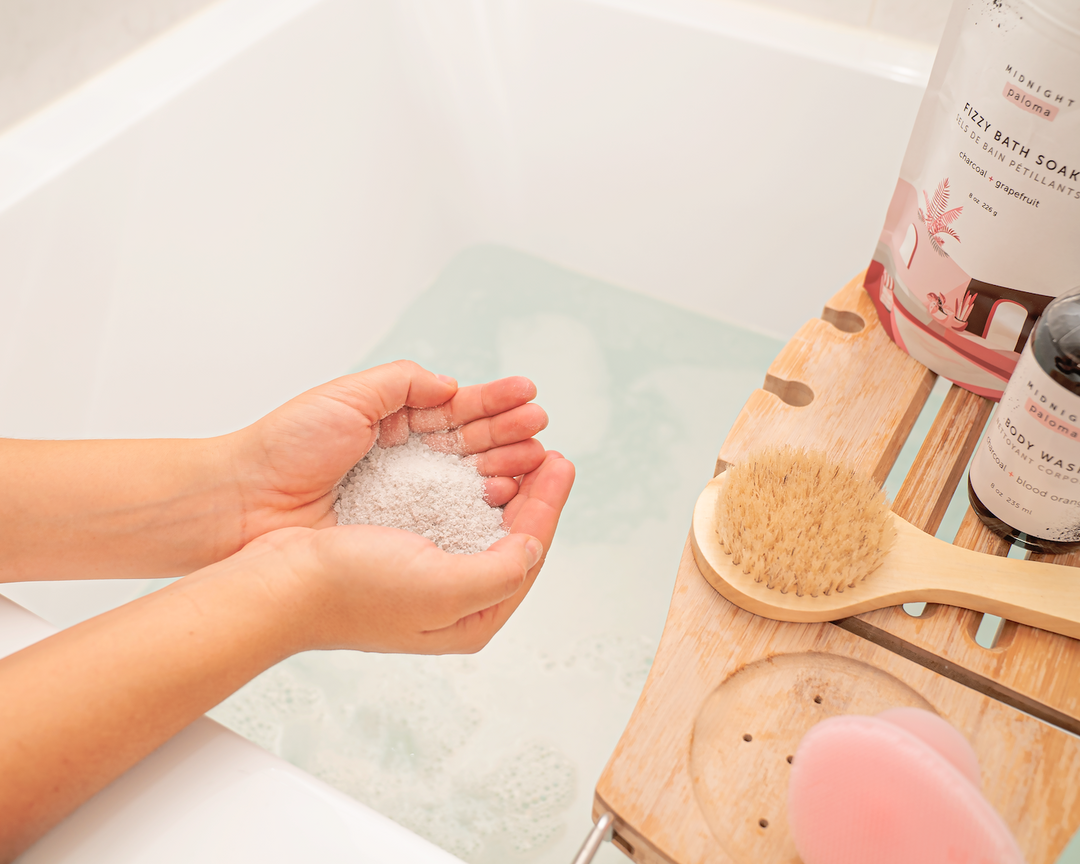 First things first, what is Epsom salt? Well, despite being called a "salt" this type is far different from your table variety. The only similarity between the two is their chemical structure. Other that that, they are used in very different ways, for very different reasons. Though some people do consume the Epsom variety to help treat things like constipation and fibromyalgia, here we're going to talk about how they can help you externally. 
What Is Epsom Salt Used for?
The beauty of Epsom salt is its extreme versatility. Though it's most commonly used to treat run-of-the-mill aches and pains, it's also been used as a home remedy to help with a whole host of other ailments, such as:
Arthritis
Bruises
Swollen feet
Aching post-workout muscles
Bug bites
Ingrown toenails
Insomnia
Sunburn
What Are The Benefits?
By helping restore the body's magnesium stores, Epsom salt can help provide a myriad of therapeutic benefits that promote health and wellness. These include:
Drawing toxins out of the body
Promoting a good night's sleep
Supporting exercise recovery
Reducing pain and swelling caused by inflammation
Easing pain from bites and stings
What Does Epsom Salt Actually Do?

When Epsom salt meets water, they immediately break down into magnesium and sulphate. Not only do these important minerals help draw toxins out of the body, they absorb into the skin to support a myriad of important bodily functions, while helping maintain a healthy immune system.
Helpful Ingredients to Complement Epsom Salt
Kick your Epsom salt up a notch with the following ingredients:
Essential oils
Charcoal (known to help draw toxins out)
Therapeutic plant extracts like rose, lavender, citrus and chamomile
Oats (known to calm skin inflammation)
For a detoxifying experience, try our Charcoal + Grapefruit Detox Fizzy Bath Soak. For a calming and soothing experience, try our Chamomile + Lavender Calming Bath Soak. 
Are There Any Side Effects? Who Should Avoid Them?
Though rare, side effects from Epsom salt can occur so taking some caution couldn't hurt. When used externally, it can dry out the skin, which could be problematic for people with dry skin (or those who suffer from the dreaded winter dryness). Some people have also reported feeling a little light-headed after an Epsom soak, so it's recommended to do it before bedtime. If you have any medical conditions, such as heart disease or diabetes, you should ask your doctor if Epsom salt baths are right for you.
Can an Epsom Salt Bath Help with Stress Reduction?
The act of taking a warm bath alone is a relaxing ritual. Add Epsom salt and you've got yourself the perfect stress reliever. When magnesium is absorbed into the skin, it helps by restricting the release of stress hormones headed for the brain. It also helps relax and revive tense joints and muscles, which in turn help relieve stress. Last but not least, Epsom salt increases the buoyancy of water, making you feel lighter and even more relaxed.
Can They Help With Muscle Recovery?
When it comes to recovering properly after a particularly rigorous workout, some people swear by Epsom baths as a means to help reduce muscle soreness, inflammation and swelling. As we just mentioned, the simple act of taking a warm bath on its own can help you unwind and relax after a hard workout. And that's considered a recovery win in and of itself. 
At the end of the day, Epsom salt baths are an excellent way to take a break from the daily stressors of life. They take relaxation to the next level and work wonders at soothing tired muscles and easing stress. Epsom, take me away!