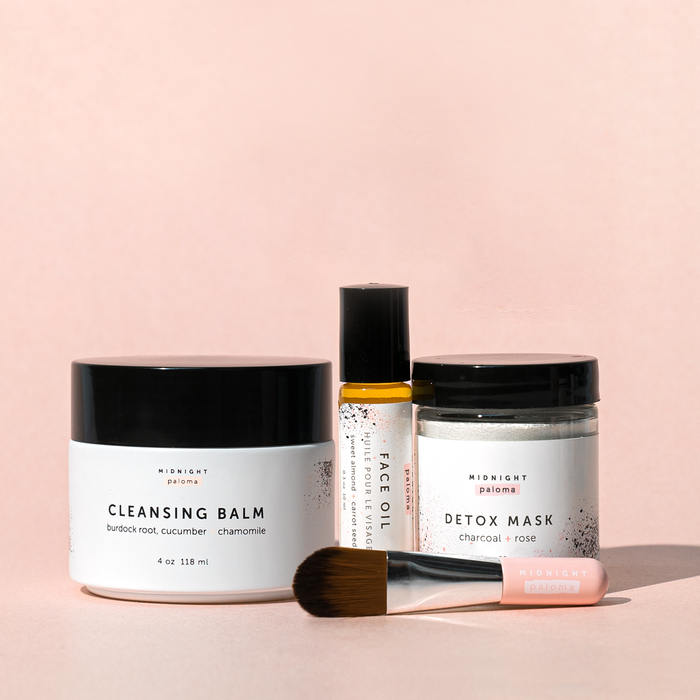 Save $14
on me!
Clear Skin Bundle
This ultimate pore-fighting trio includes:
- Porefining Face Mask + FREE Mask Applicator
- Nourishing Apres Mask Face Oil
- Impurity Removing Cleansing Balm
- Cruelty-free & Canadian Made
$103.00
$89.00
Get it now
Canadian Made
Free Express Shipping
Money Back Guarantee
Real Customers. Real Results.
*Customers used our Detox Mask, x1 per week for 7 weeks
"I am really satisfied with this mask. I had some scars and redness on my face but after using it, all that is gone and face has become more noticeable and smooth and glowing."
- Akanksha K.
"I am making out great with the mask! I've noticed a huge difference in my skin. Overall texture is a lot smoother and minimal redness! I try to use my mask at least twice a week. I even use it just on a single breakout and leave it on overnight.
I am so impressed!"
- Maggie P.
"I have noticed that my skin is super soft and feels really cleansed after using the mask! The redness has gone down and I feel much more confident about my skin now! I will definitely be purchasing this product in the future!
I love that it's natural, affordable and soothing to my skin!"
- Samantha G.
Natural Ingredients for Fresher Skin
Handpicked for you
Deep cleans skin, removing breakout causing impurities naturally.
Antioxidant Boost
with burdock root
Rich in antioxidants, this tried and tested ingredient detoxifies and soothes the skin.
Not just for a bouquet. They help to retain moisture + soften your skin.
A natural source of omega 3, 6 & 9 which repair damaged skin + reduce the look of scars.
Clean ingredients you can feel good about.
No Sulfates
No Parabens
No Phthalates
No Artifical Fragrances
All Natural Formulas
Cruelty Free + Vegan
Clear Instructions for Clear Skin
Maintain your glow w/ Burdock Root Cleansing Balm
Use everyday.

Massage Balm into skin, concentrate on makeup heavy areas. Slowly add warm water and massage use Silicone Cleansing Mitt. Rinse thoroughly.

Treat Your Breakouts with our Detox Mask
Use 2x a week.

Mix up mask and then apply an even layer on your skin using the applicator brush provided. Leave on until completely dry and gently remove with warm water.

Tip! Only have one pesky breakout? Use this mask as a spot treatment!

Hydrate. Roll on Carrot Seed + Almond Face Oil
Use everyday.

After cleansing your face, take roller and apply on face. Massage in gentle motions with finger tips.
Loved this set!
This set was amazing! I love that it's made with all natural ingredients. The mask leaves my skin GLOWING!
Love this mask!
Nicely packaged powered face mask that you can blend yourself according to your skin type. I used it with honey and it worked nicely. It left my skin feeling clean and soft, definitely recommend.
Love the Charcoal + Rose Detox mask
I am in love with this Charcoal + Rose detox mask, I love the way it doesn't dry my skin out, it leaves my pores so clean, I'm in love with this brand.. thank you for the amazing products
Amazing Mask
I love using my Rose Detox Mask! My face is so smooth after I use it. So gentle, no irritation like other masks I've used before. I love it!!!
Amazing skin product!
In the current times of serious "mask-ne", this product has amazing skin clearing properties. I promise, you won't be disappointed!
About Us
Hi! I'm Tayler from Midnight Paloma!
My skincare company is dedicated to clean beauty, hero ingredients + skin tools.
All products are made with the highest quality ingredients, are 100% organic + cruelty free and were developed with a core belief in hero ingredients being a foundation for healthy living.